----------------------------------------------------
7 Wednesday EveningSessions Online
27. January - 21. April 2021
19.30 – 20.30

7 exciting evenings about spirituality in everyday life
DOWNLOAD FULL PROGRAM HERE (PDF)...

It is with great pleasure to offer 7 evenings to learn from Rita Makkannaw
about spirituality, her life, questions/answers and listen to wisdom.
Rita has lived 20 years of her life at the side of a medicine man from the
Cree Nation in Canada. Her teachings are based on the knowledge she got
from him and the other elders in the native community.
She sees herself as a living bridge for knowledge from the old world and the
"new". Rita Makkannaw believes that our modern world, in its explosive
change, has lost some of its old knowledge on how to live life in harmony
and balance.
It will be online and easy understandable English, with a presentation from
Rita and then time for questions.

Suggested donation for all 7 evenings
Danish kr. 650,

Sign up Denmark - mobile pay 30299011 - Morten Juhl Lundhus
We also need your contact information to send you a link for the
connection.

Contact:
morten@lundhus.dk Phoine: 30299011
merete@prana-consulting.dk 22461530

Sign up international will be PayPal – contact for more information.
----------------------------------------------------
Winter is bringing more presentations for senior clubs, educational institutions, churches and any other clubs who might be interested in a few hours of sharing some cross cultural experiences. Every presentation is unique to the interests of the audience.

Listed are some of the topics which may be covered:
A white woman's journey as the wife of a North American Cree medicine man and spiritual leader of his people.

Turning failure into success in the educational field.

Working traditional and western medicine hand in hand.

Understanding cultural differences and how misunderstandings affect people within our institutions.

Communication in harmony.

Spirituality in everyday life.

Personal empowerment

Protection from losing one's power and how to regain it in a good way.
I am adding a one full day's one on one session where we may address life strategies and personal empowerment
------------------------------------------
Author RITA MAKKANNAW is offering
Life Strategies and Spiritual Development Coaching
Do you wonder WHO you really are and what is your purpose?

Are you sometimes left feeling powerless? Would you like to learn how to get your power back in a good way?

Would you like to learn how to use your power to benefit yourself and others?

Would you like to learn how to communicate more effectively?

Are you stuck in the past?

Are you confused about your future?

Would you like to learn more about how to celebrate your spirituality in your own way?
Rita will share with you tools to bring your life closer to a state of harmony, of joy, of success as you see it.

One on one sessions available at this location.
Register in person or by phone 780-960-2166
Cost; 75 dollars/session. Appr. 1 hour.
------------------------------------------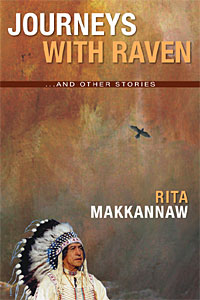 My new book
Journeys With Raven - and other Stories

is now available for sale. I wrote that as a result of numerous requests for more of the traditional teachings.
I want to thank all the people who made the request and all the people who helped make it a reality.
http://shoppagemaster.ca/Journeys-With-Raven.html
"The book is now available at
The Royal Alberta Museum at 12845 102 Ave.
Edmonton and Audreys Books at 10702 Jasper Ave. Edmonton
------------------------------------------
Rita i Danmark
Ønsker du et foredrag med Rita

Foredrag, storytelling og præsentationer i klubber, foreninger, konferencer, organisationer, familie forsamlinger osv. kan arrangeres. Ring eller skriv!

If anyone would like to make a booking please e-mail rita@oldknowledge.com
phone +45 21 15 61 45





Please click icons for descriptions.